Regular price
€78,95 EUR
Sale price
€69,00 EUR
Unit price
per
Sale
Sold out
Earasers Earplugs welcome Set
The complete solution for the music lover in your life. I
ncludes our Starter Kit, a Stash-Can carry canister and cleaning wipes.
Don't forget to choose your Stash-Can Color and sizes for the Starter Kit.  
Earasers Starter Kit!  Ideal for "First Time Wearers" to help determine which silicone tip/sleeve SIZE will provide the optimum seal for your unique needs.  Earasers Starter Kit comes with TWO sets of different sized silicone Sleeves/Tips, and ONE pair of Filters, and an Earasers professional insertion tool.  This kit allows you to place the ONE Set of filters in the Silicone Sleeves/Tips that best suits your personal ear canal for the optimal seal.  
With this Kit, You are building ONE Set of Earasers earplugs ideal for your unique needs.  You have two different sized Silicone Sleeves/Tips to choose from. 
Size Options are:
X-SMALL/SMALL (of Silicone Sleeves/Tips)

SMALL/MEDIUM (of Silicone Sleeves/Tips) (Most common for Adults) 

MEDIUM/LARGE (of Silicone Sleeves/Tips)
Included will be ONE set of filters already installed in the "larger of the two" silicone sleeves/tips, along with a second set of the "smaller sized silicone sleeves/tips" that you can swap the filters into if needed for ideal sizing.
View full details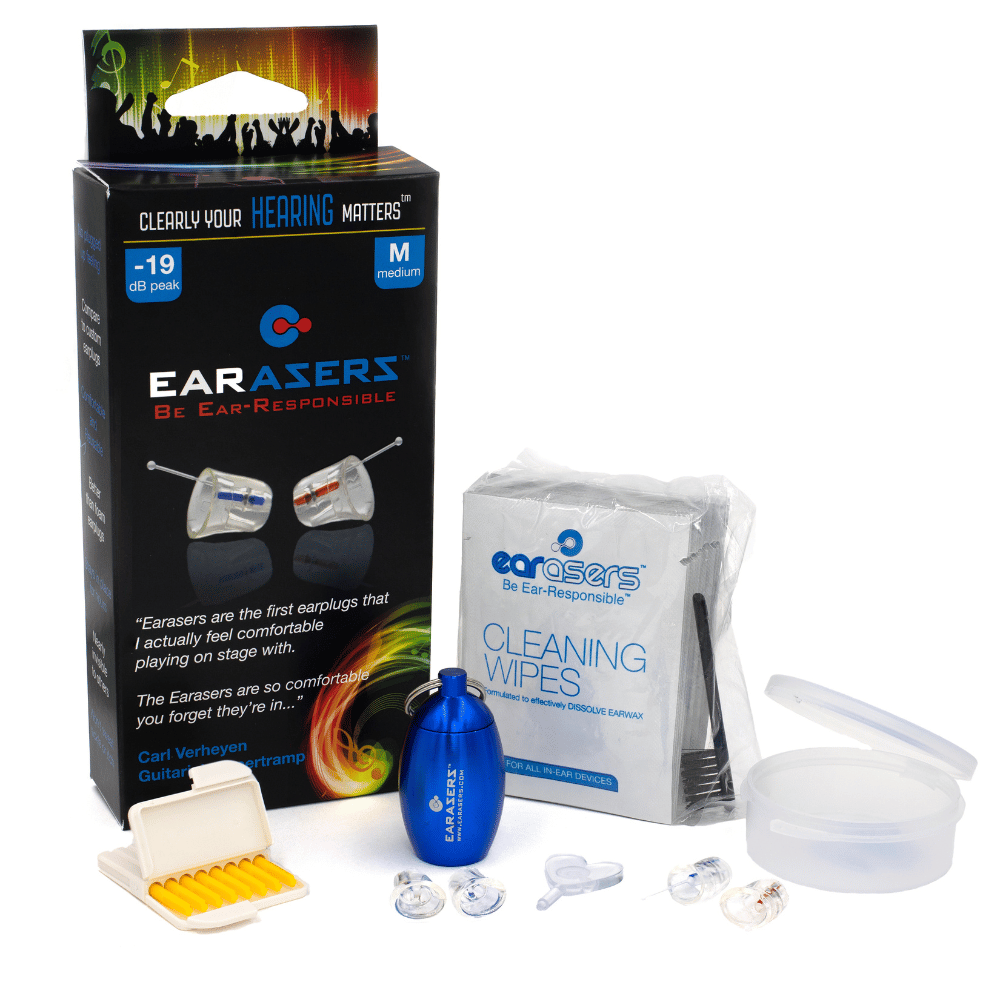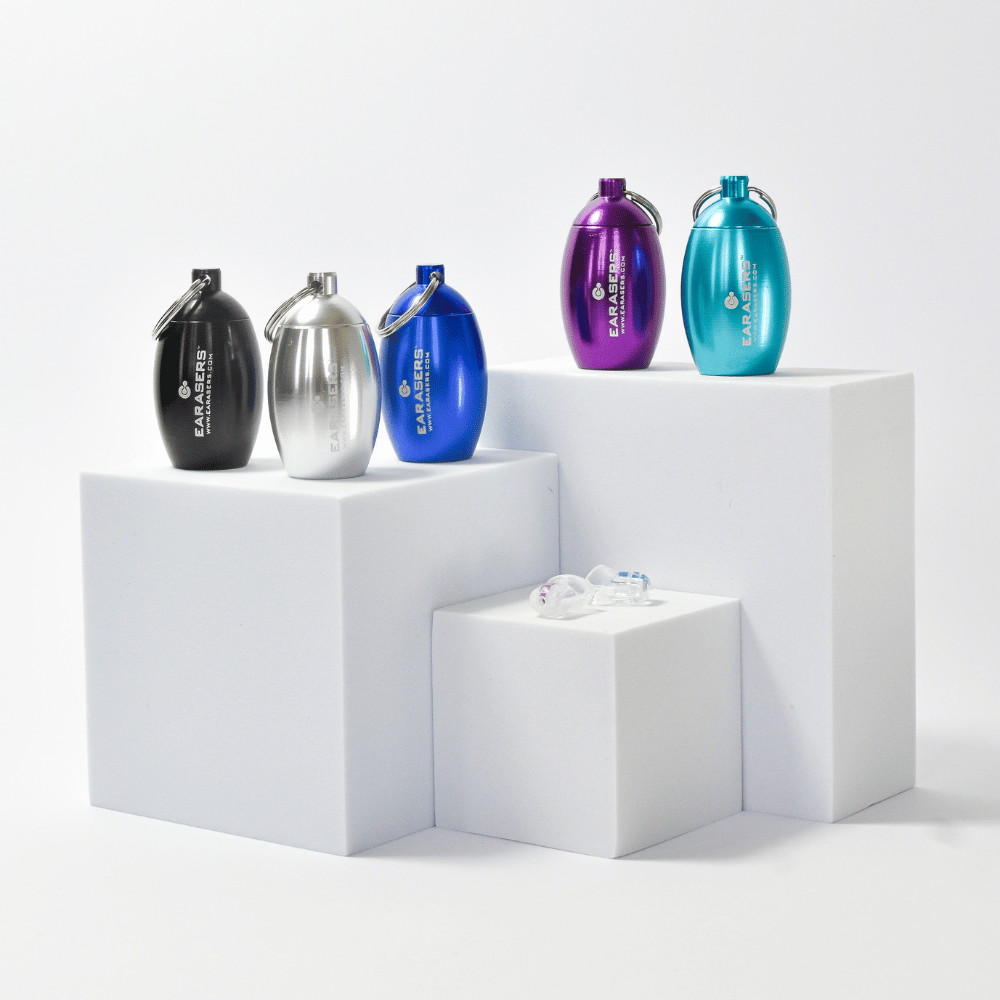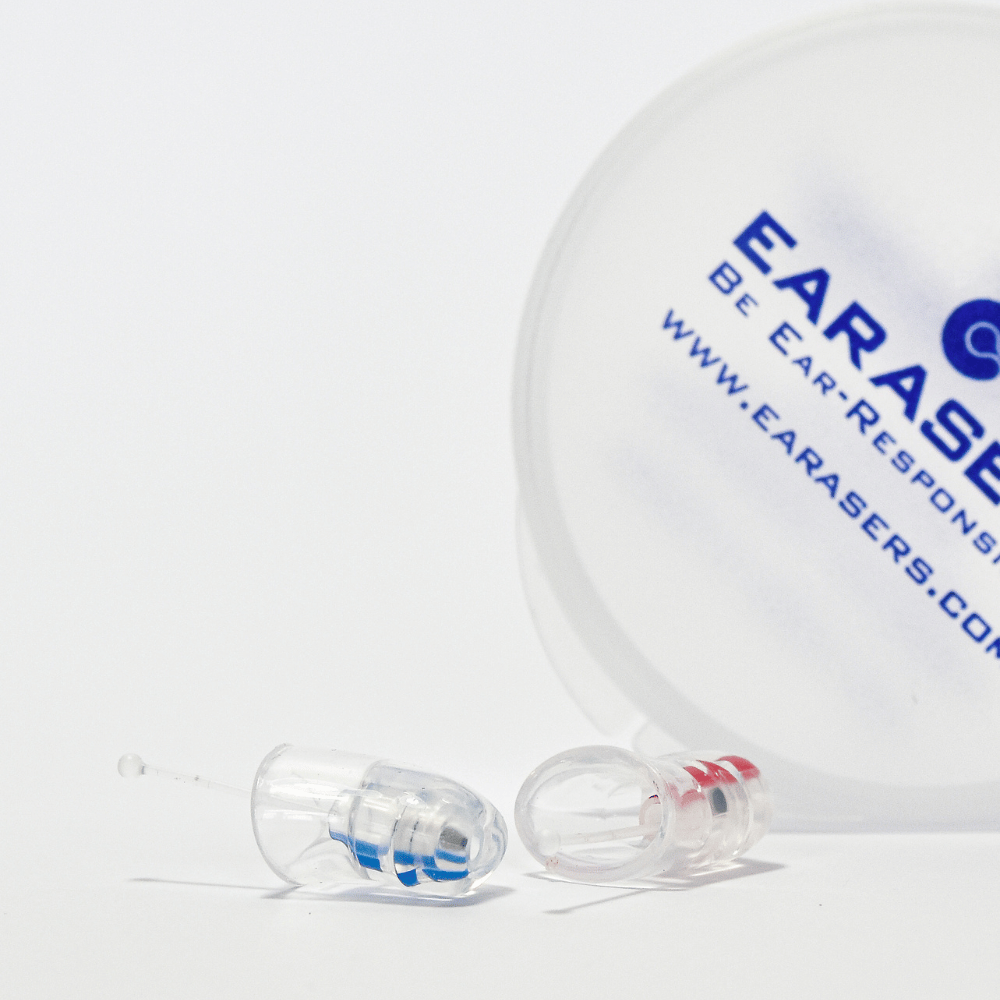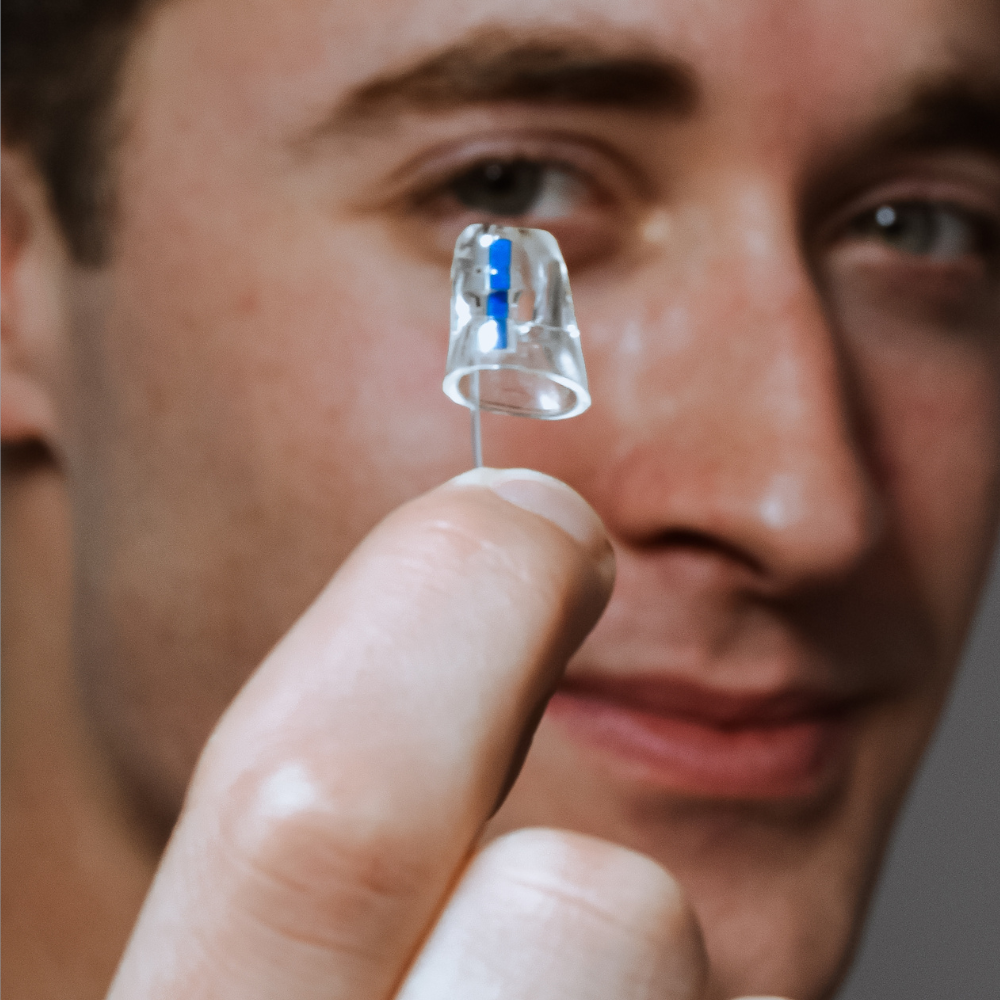 100-Day Hassle-Free Returns

Return within 100 days, no questions asked

2-Year Warranty

On all our EarAsers products
EARASERS EARPLUGS SIZE CHART
Earasers earplugs are a popular choice for musicians, concert-goers, and anyone looking to protect their hearing while enjoying loud music or noisy environments. To ensure the best fit and maximum protection, Earasers offers a range of sizes for their earplugs. It's important to note that everyone's ears are different, so best fit for your ears.
SIZE 'XS'

SIZE 'S'

SIZE 'M'
Frequently Asked Questions
How do I insert my Earasers Earplugs?

Take the string between your thumb and index finger, put it in your ear. Once sealed in the ear canal, turn and adjust so your Earasers earplug aren't visible from the front.
Will they fit?

Yep, our earplugs are fit for all, because they come with removable silicone ear tips in 4 different sizes.

So, whether you've got tiny ears or need something slightly larger, you can adjust your ear tips to fit you perfectly. Additionally, you can get foam ear tips in 3 sizes
... but the earplugs are probably pretty good ...
Slow shipping, hard to read tracking information, and quite invasive e-mail pushing - but the earplugs are probably pretty good ;-)
"We fulfilled your order from our store Earasers.Shop 14 days ago"...
Well, I got the package five days ago... I live in Belgium and they came from Holland. Took about eight days to get here. The track an trace information was very unclear, the shipping company should take a look at their competitor's websites to get an idea how to make theirs a little more user-friendly.
I must have had three or four emails asking for a review since I placed the order, even before the package was sent off they already asked for a review.
But I can't decently review the things, since I got them the day after a festival where I intended to test them... ordered them a week before.
Mind you, I'm not a fan of overnight delivery and such, I think people should sleep at night, not work ;-)
I tried them nonetheless, by pushing my stereo while listening to an underground rock radio show, and I have the impression they are better than the Ethymotic Research ERS20 or whatever they're called (can't find the package anymore), and better than the Alpine MusicSafe Pro. By "better" I mean they seem to render the sound in a more natural way, but they still cut out a lot of the higher frequencies. Given the higher frequencies are those which destroy your hearing and cause tinnitus, they are probably meant to act that way... All in all I found the sound to be pretty acceptable, even though losing the highs means losing a lot of definition. Probably the price to pay to protect your ears...
Conversation with my girlfriend across the table was no problem, even though the radio played really loud, but then again, it wasn't a "real concert" situation.
Ah, and something else: in the picture on their website, the "Welcome Deal" package includes a brush and a box of sticks which, as I understand, are meant to help you clean out the filters periodically. Neither were in the package I got, which seems like misleading advertising to me. I'll have to address that issue with the company I guess, but I've got other things to do with my time frankly.
So, to summarize: I guess they're the best earplugs I've had yet, but they should probably be as they cost at least double of what I've had before. I still have to test them in real concert or rehearsal situations though, so I can't tell with certainty.
Shipping seems to be slow here in western Europe, so you best order them well ahead of your next concert!
I might have given them four stars if it wasn't for what I've written above, but not five, given the high frequencies loss and the missing items in the package...
And another last point: they fit quite snugly in the ears when you've got the right size, so I guess I won't lose them even if I get into a crazy dancing frenzy, but forget about taking them out and putting them back in all the time when you've had a few drinks; the little stems you use to pull them out are really hard to find once they're in place! If you're the type to get slightly drunk (like me), forget about it!
I also think a kind of string securing them should be a welcome addition, as if you drop them in a concert/festival situation, you're very unlikely to find them given their transparent nature and minimal dimensions. But they won't fall out by themselves, they're a snug fit in the ear.
Hi Willy, thank you so much for taking the time to write this review. We truly appreciate the effort you put into providing your feedback. Your insights are valuable to us, and we assure you that we will carefully consider your comments to further improve our products and services. Your support means a lot to us, and we're grateful for your contribution.
Great musicians plugs!
I'm an American Audiologist & I bought a pair for myself & a pair for my husband to wear to concerts and loud venues. I wore them to a metal concert & they worked like a charm and even fit snugly enough to allow free head movement without fear of dislodging. They are perfect for hearing the music without damaging hearing. Also, fantastic customer service & fast shipping.
Love these
Love these. This my 2nd pair. I use one for gigging and one for rehearsing. They're the best and most comfy ones I've used.
Perfect
Perfect fit and amazing sound. Ordered this kit a few days ago and used them for my first time yesterday. Even when I'm in the music studio, these earplugs work perfect! Take some time to get the best fit in your ear, once it fits good the sound is amazing. Thanks Earasers!