Regular price
€58,00 EUR
Sale price
€49,95 EUR
Unit price
per
Sale
Sold out
Earasers Muziek oordop
Het nieuwste en beste product op de markt! Je houdt van uitgaan en wordt regelmatig blootgesteld aan muziek op hoog niveau, Earasers blokkeren je oren niet en dempen het geluid niet zoals de meeste oordopjes. Earasers oordoppen filteren binnen bepaalde frequenties. De menselijke stem bevindt zich tussen 250Hz en 300Hz, dus je zult nog steeds verbazingwekkend goed gesprekken kunnen horen terwijl je deze draagt. Earasers maken gebruik van een uniek demping "V-filter" om tot 31 dB bescherming te bieden in de frequenties waar je deze het meest nodig hebt. Het resultaat is 's werelds eerste oordopjes met een vlak frequentiebereik.

Maat +
Tip over maten:
75% van de (volgroeide) mannen gebruikt Medium
75% van de vrouwen gebruikt Small
75% van jongvolwassenen gebruikt Small
De meeste mensen weten al of ze kleine oren hebben vanwege hun ervaring met andere oordopjes. Maak je geen zorgen, er is zeker overlap in de maten. Als je verkeerd gokt, kun je ze altijd binnen 30 dagen omruilen. Als je zeker wilt zijn van de juiste maat zonder heen en weer te verzenden, kijk dan onze FAQ pagina. 
Beschrijving +
Het zachte siliconen ontwerp van Earasers is gebaseerd op een van de meest gebruikte tips voor gehoorapparaten op de markt. Er is geen dure reis naar een specialist nodig om aangepaste oorvormen te krijgen. De Smart Seal-technologie past zich aan de vorm van je gehoorgang aan voor een comfortabelere pasvorm die je de hele dag kunt dragen. Earasers kunnen worden schoongemaakt en hergebruikt en wanneer de siliconen tip oud begint te worden, kunnen ze worden "vernieuwd" met nieuwe siliconen sleeves.
Productinformatie +
Bezoek de informatie sectie op onze website om FAQ's, garanties, specificaties of instructievideo's te vinden. Voor andere vragen bekijk de vragen sectie of stuur ons een e-mail.
Filter niveau + 
Voor iemand die thuis werkt of gewoon een boek leest, maar met veel lawaai om zich heen, adviseren we om gemiddeld -13 dB, 19 dB piekfilters te gebruiken.
Voor iemand die naar muziekfestivals of luide concerten gaat, hebben we een ander type oordopje. Kies voor meer demping, bijvoorbeeld -26 dB -31 dB. Zo zorg je ervoor dat je oren geen pijn doen als het geluid extra luid is. Geen piepjes meer als je thuiskomt.
Een tandarts hoort geen echt harde geluiden uit machines komen, maar moet ze wel de hele dag horen. Dat is niet gezond voor de hersenen om te verwerken. Voor dit soort situaties hebben we de -19 dB filter. Deze zorgt ervoor dat je het geluid uitschakelt, maar de stem nog wel hoort.
Als je vragen hebt over het filter dat je wilt gebruiken, neem dan contact met ons op of bekijk onze social media pagina's waar we meer informatie geven.
View full details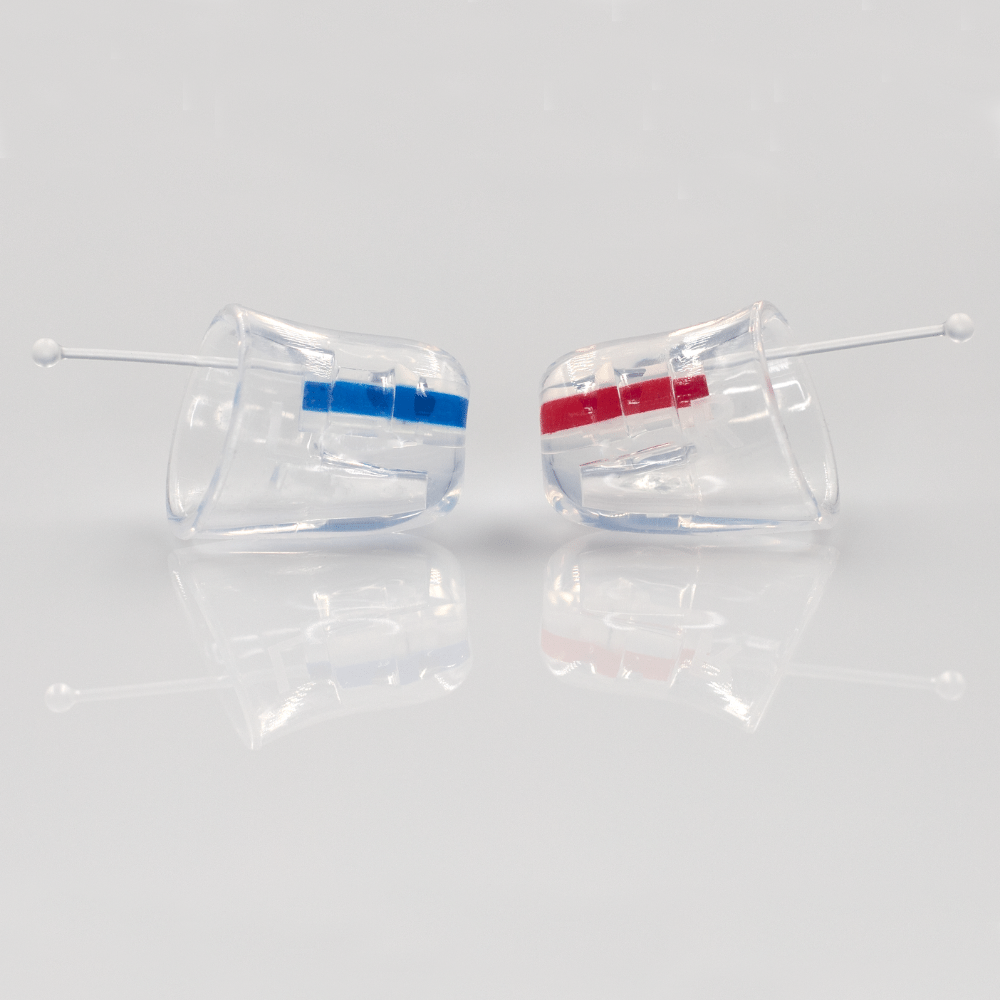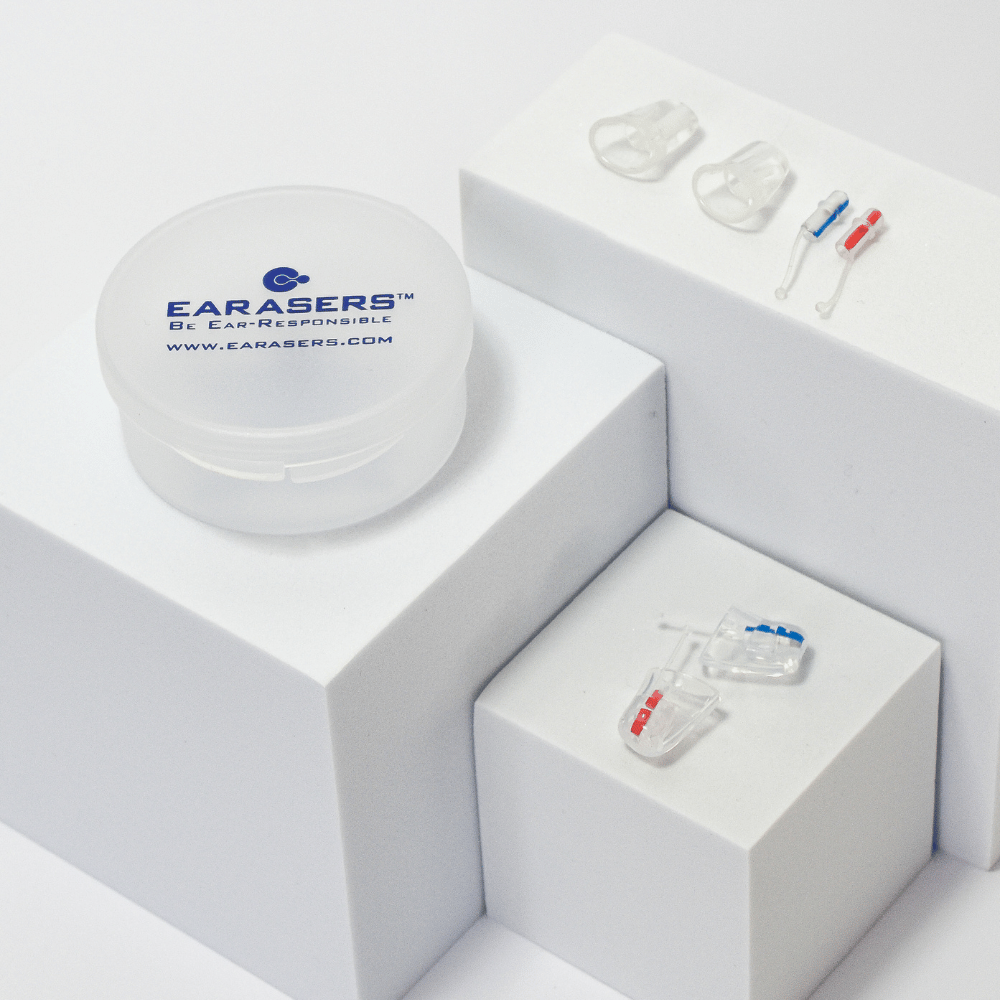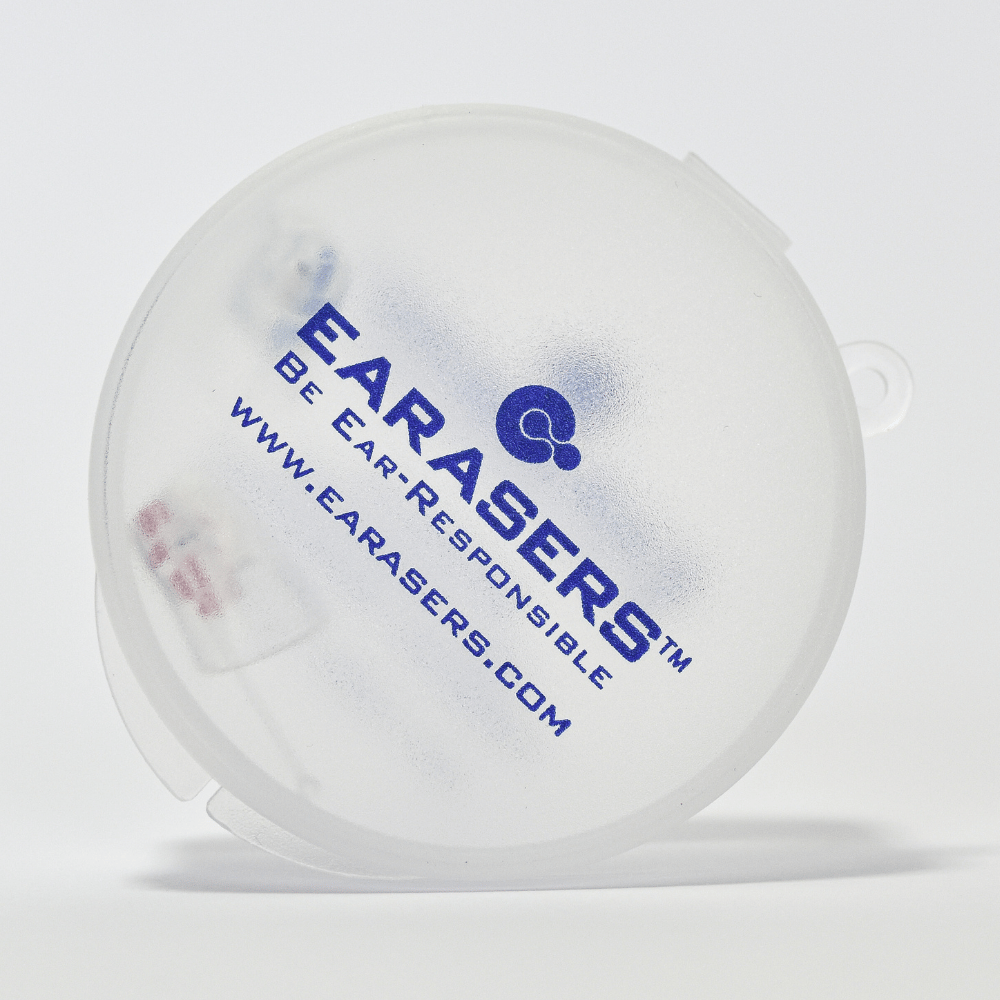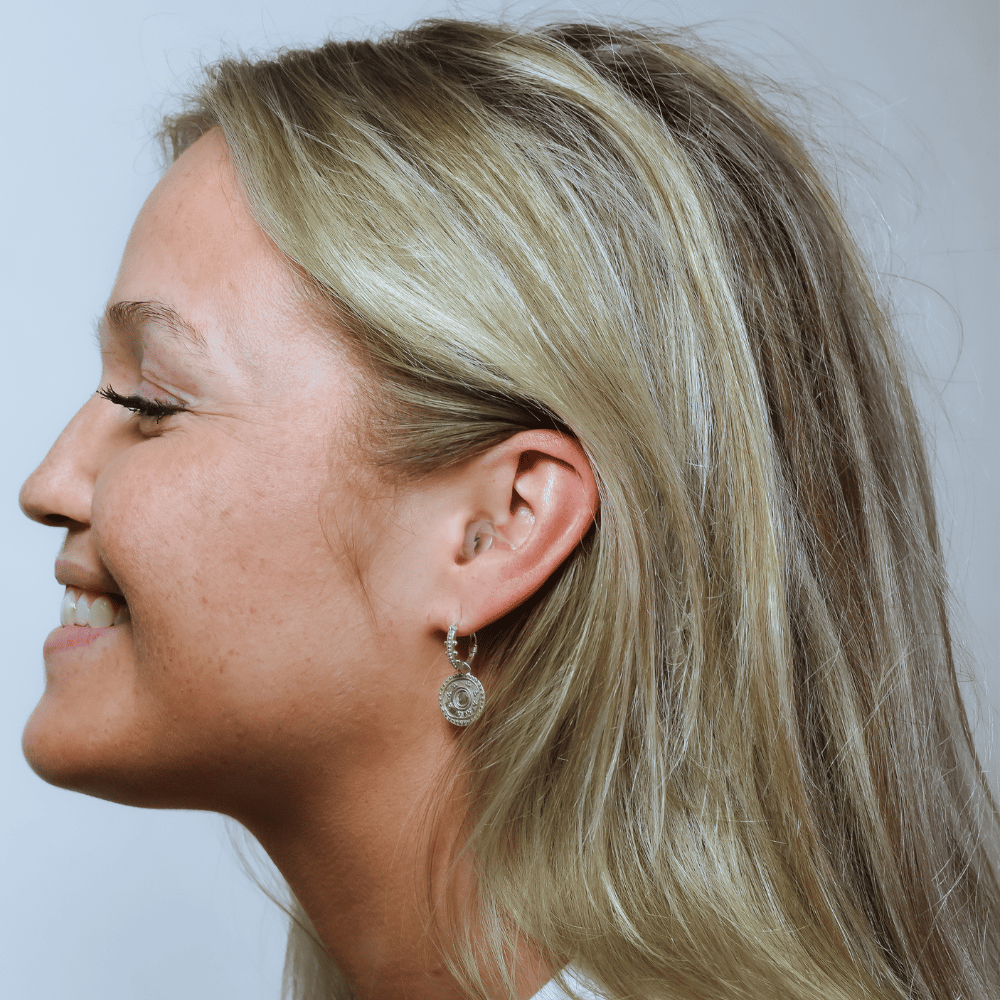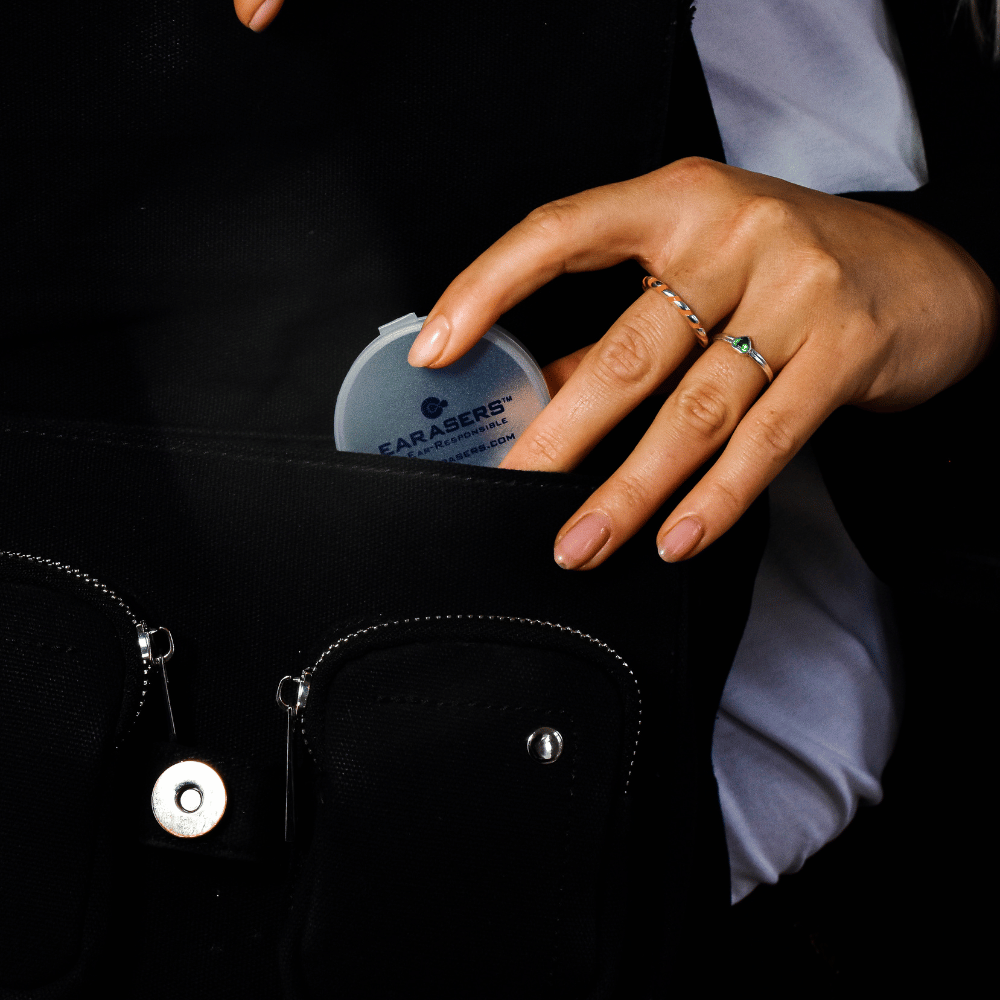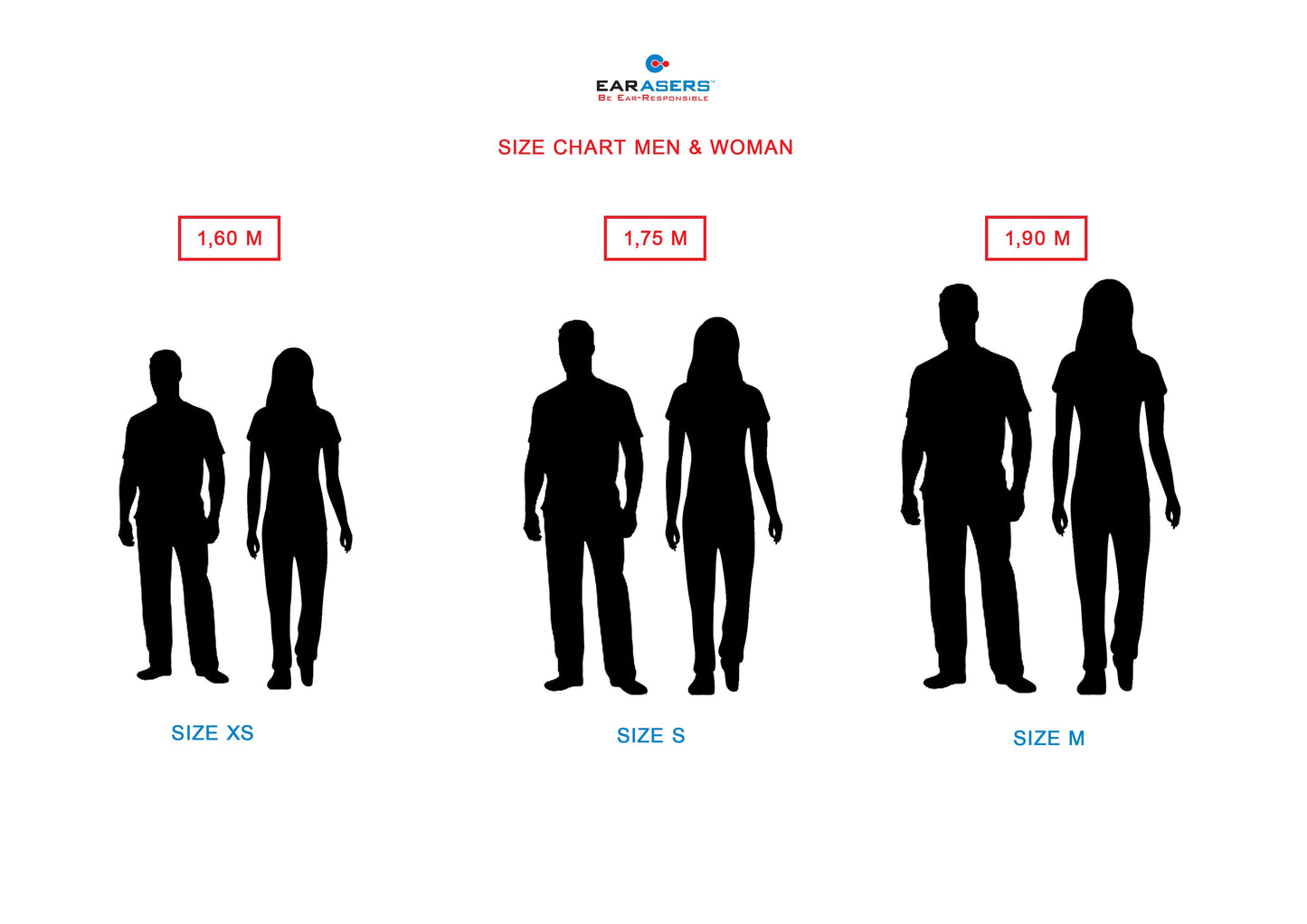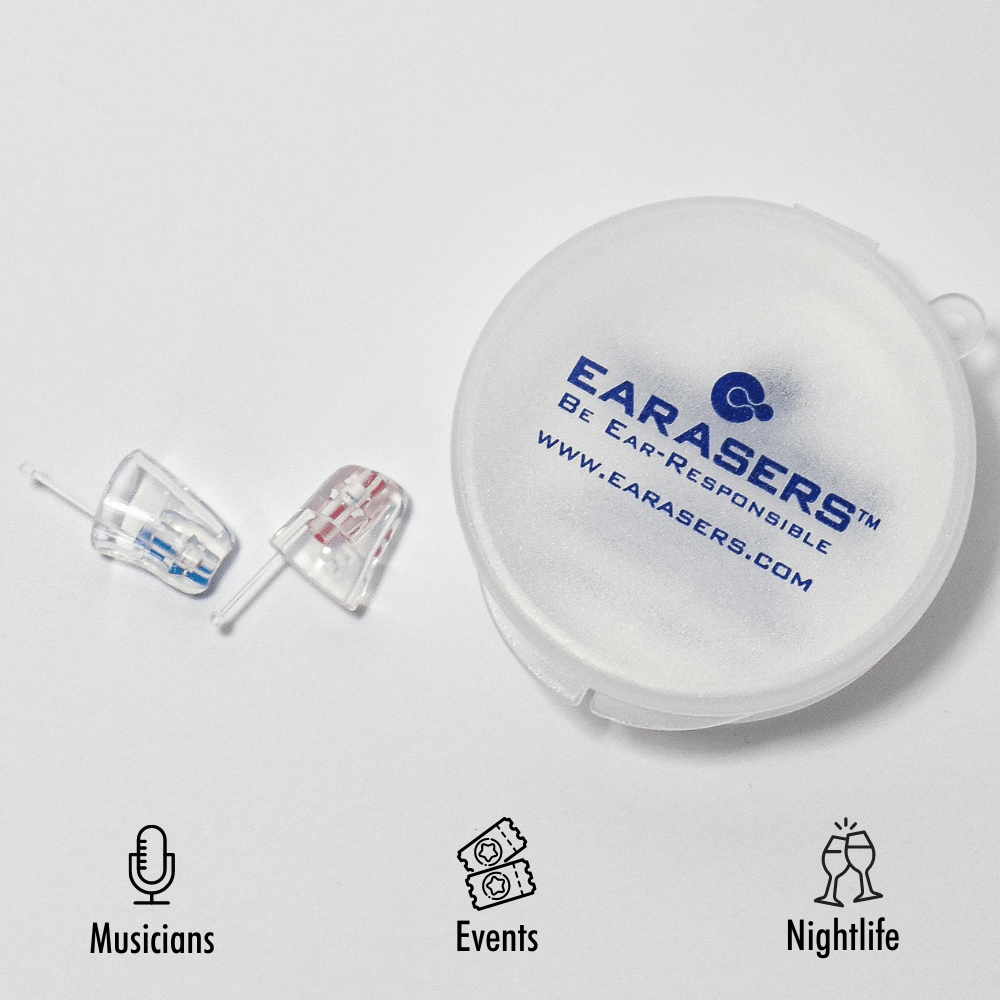 100-Day Hassle-Free Returns

Return within 100 days, no questions asked

2-Year Warranty

On all our EarAsers products
EARASERS EARPLUGS SIZE CHART
Earasers earplugs are a popular choice for musicians, concert-goers, and anyone looking to protect their hearing while enjoying loud music or noisy environments. To ensure the best fit and maximum protection, Earasers offers a range of sizes for their earplugs. It's important to note that everyone's ears are different, so best fit for your ears.
SIZE 'XS'

SIZE 'S'

SIZE 'M'
Frequently Asked Questions
How do I insert my Earasers Earplugs?

Take the string between your thumb and index finger, put it in your ear. Once sealed in the ear canal, turn and adjust so your Earasers earplug aren't visible from the front.
Will they fit?

Yep, our earplugs are fit for all, because they come with removable silicone ear tips in 4 different sizes.

So, whether you've got tiny ears or need something slightly larger, you can adjust your ear tips to fit you perfectly. Additionally, you can get foam ear tips in 3 sizes
Smooth fit, good sound
Last week I used my Earasers for the first time during a concert. I am really enthousiastic! They fit nicely, feel very soft and within a short time you don't feel them any more. Compared to my old ones the sound is much better. I am very happy with my Earasers!
Thanks Earasers
Ik zocht oordoppen om te gebruiken tijdens het uitgaan. Deze doen precies het werk! Ik kan mensen goed verstaan, maar heb geen piep in mijn oor als ik thuis kom. Zeker een aanrader! Ik vind de prijs goed passen bij de kwaliteit! Thanks