Regular price
Sale price
€79,99 EUR
Unit price
per
Sale
Sold out
Earasers Pro-Kit includes everything you need to get the full experience, along with the unique opportunity to test two different Earasers filter strengths side-by-side!   
 Included in your Pro-Kit are the following:
*  Two Sets of Earasers:  Different filter strengths (choose yourself!).
Note: To keep your Earasers looking like new, we recommend refreshing/renewing your silicone sleeve/tip around 4-8 months with regular usage, not just for looks, but to reduce bacteria build-up.  With less usage, tip refresh/renewing may take place further out.  (Now is a great time to get yourself a ReNewal Kit so you'll have it on hand when you need it.)
*  Waterproof keychain Stash Can accessory case:   Select "Color" option to choose your favorite!  We recommend storing your Earasers inside your Stash Can by placing them "strings together".  To avoid earplugs 'stacking'  and you accidentally threading off the pull string/ball with your twist top canister.  
* Several Cleaning wipes - Earasers cleaning wipes are specially designed to help breakdown earwax and body oils.  Baby wipes and Audio wipes may also be used.  Alcohol Free wipes should be used.  Avoid rubbing alcohol as it will breakdown the silicone over time, but more immediately, it will act as a lubricant causing Earasers unique "Friction Fit", between filter/coupler/pull-string and Silicone tip/sleeve, to become slippery and thus resulting in the two pieces sliding apart easily.      
* Instructions Booklet - We are a Right (Red) & Left (bLue) earplug.  Be certain you are inserting your earplugs correctly - not only on the proper sides - but also in the correct direction (side indicator line ends up facing the back of your head).  Changing the intended direction of your earplugs will result in an inappropriate "Smart Seal".  A Smart Seal must be achieved to provide proper protection.  
Way To Go on investing your your long term hearing care!!!!  We are proud of you!
View full details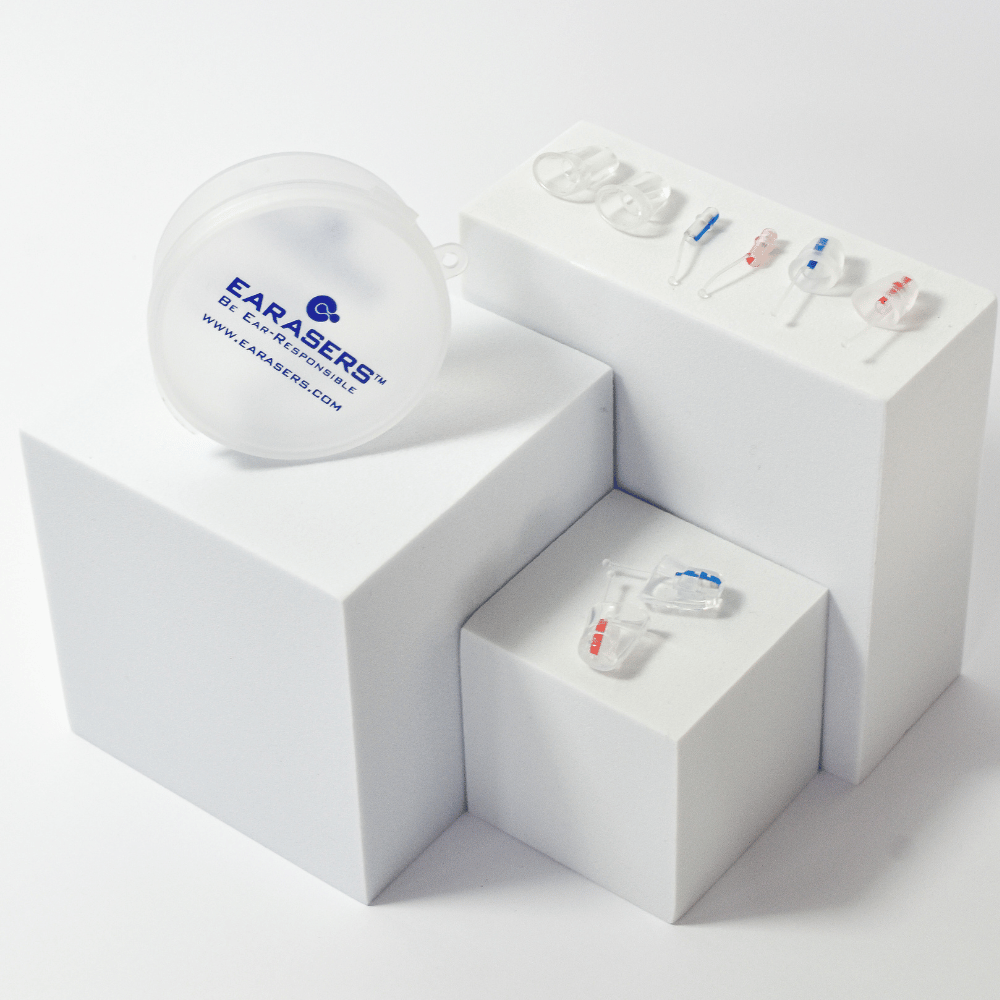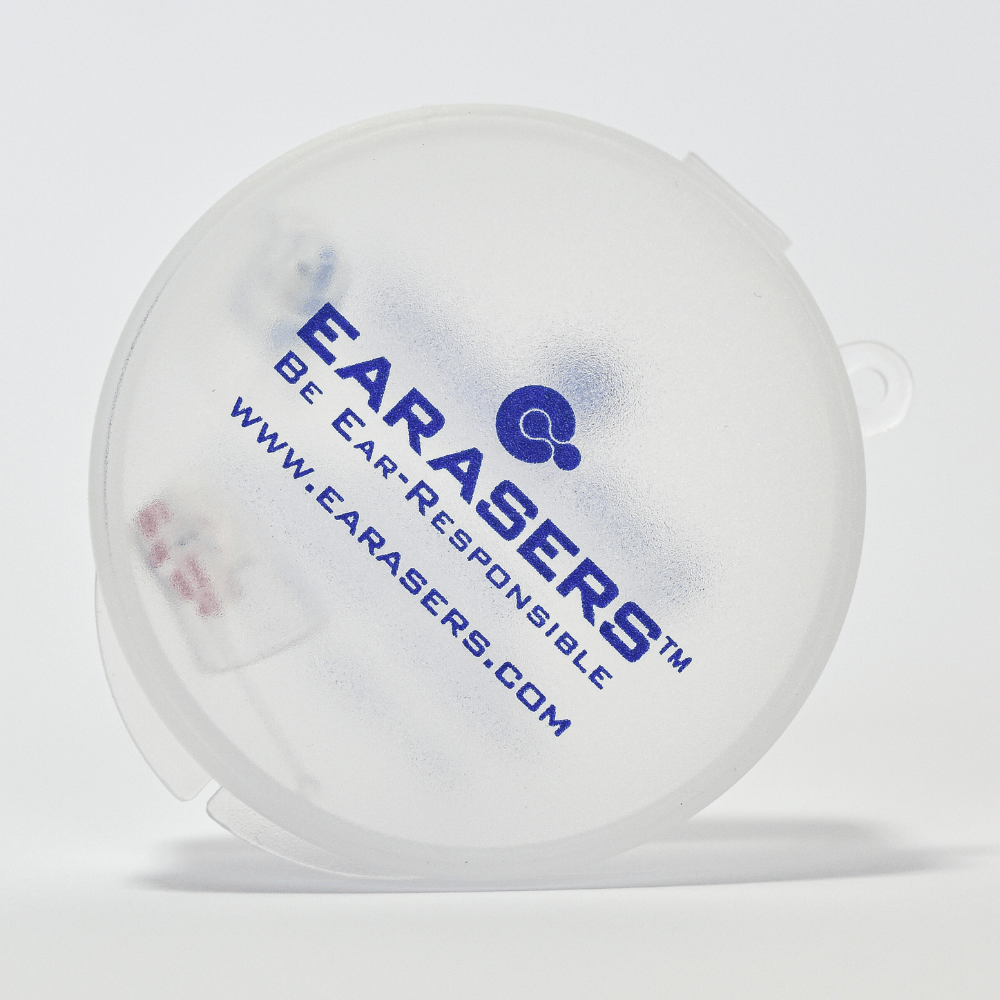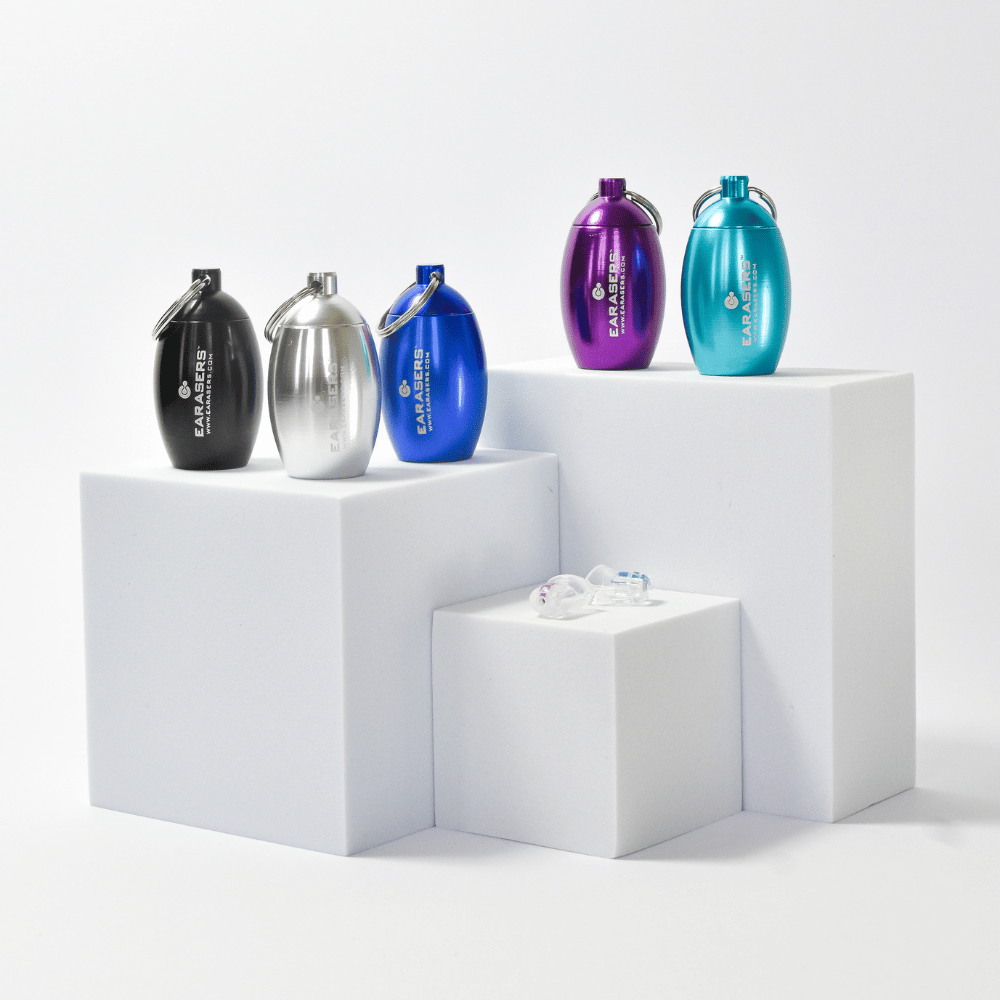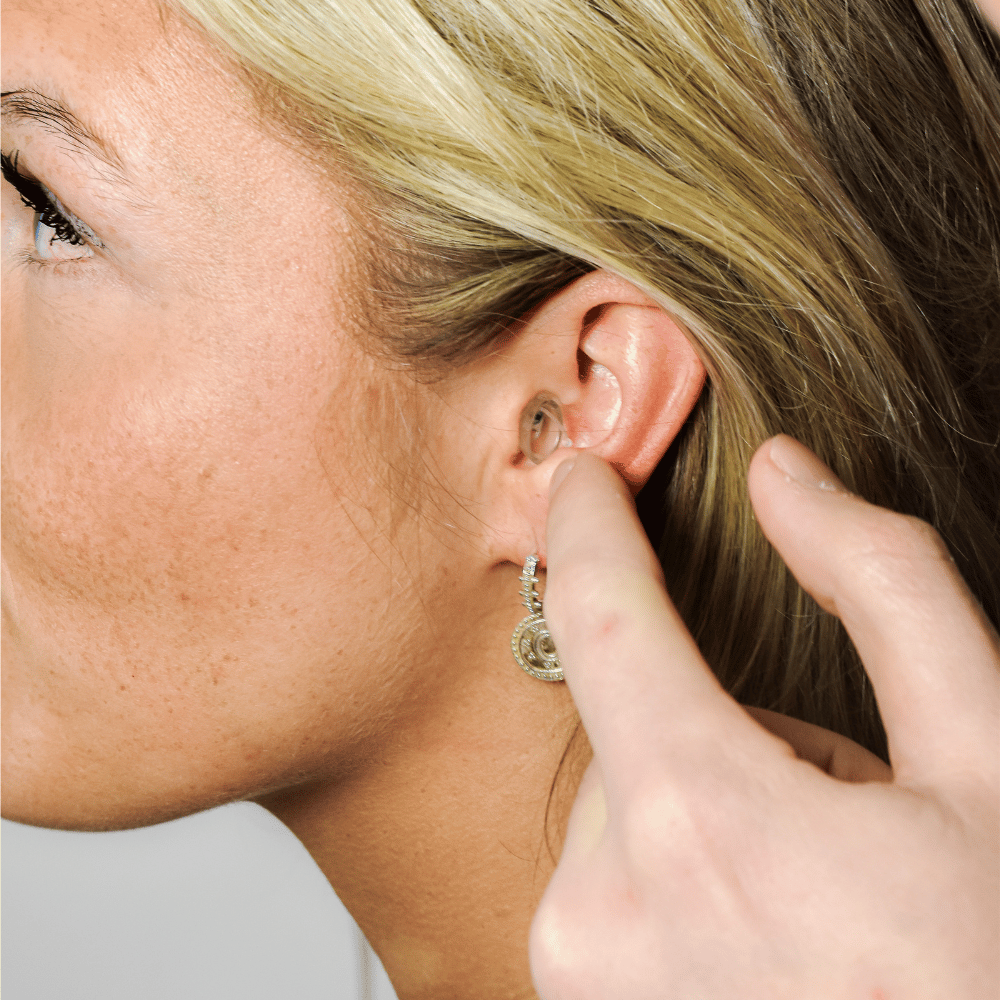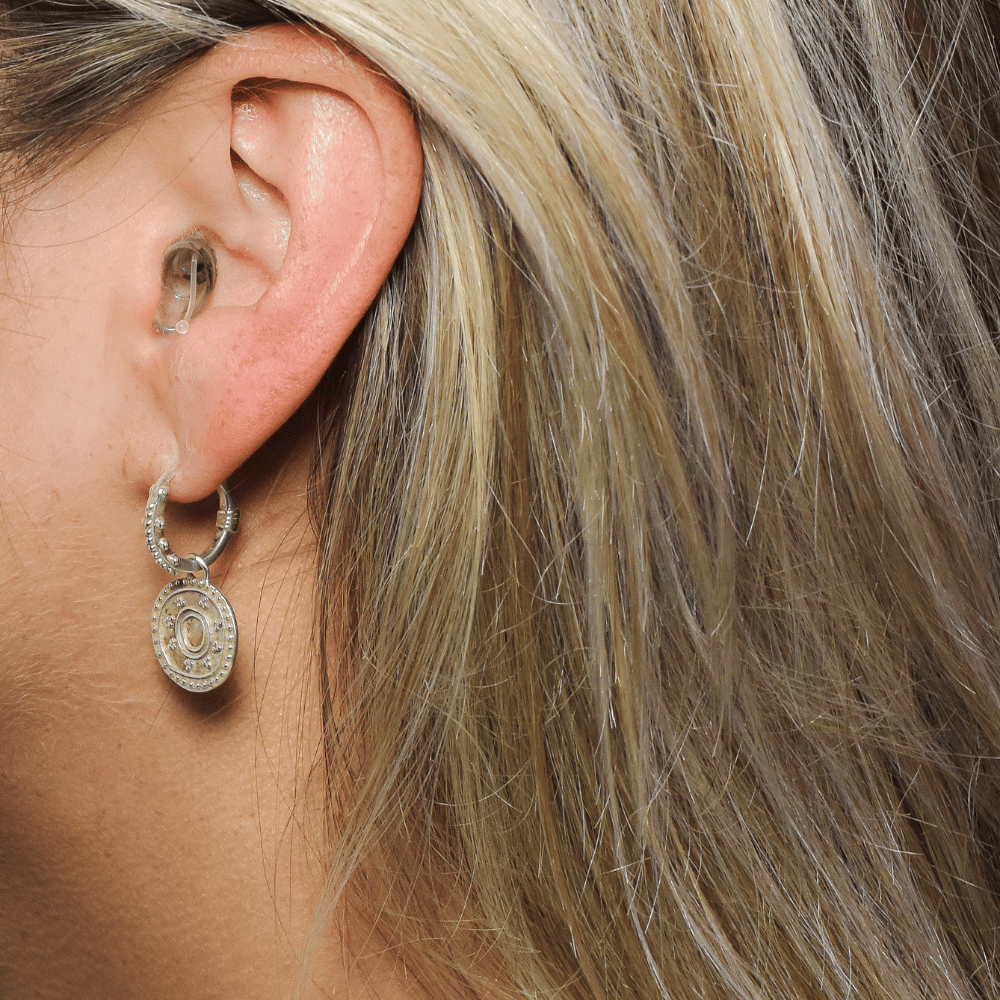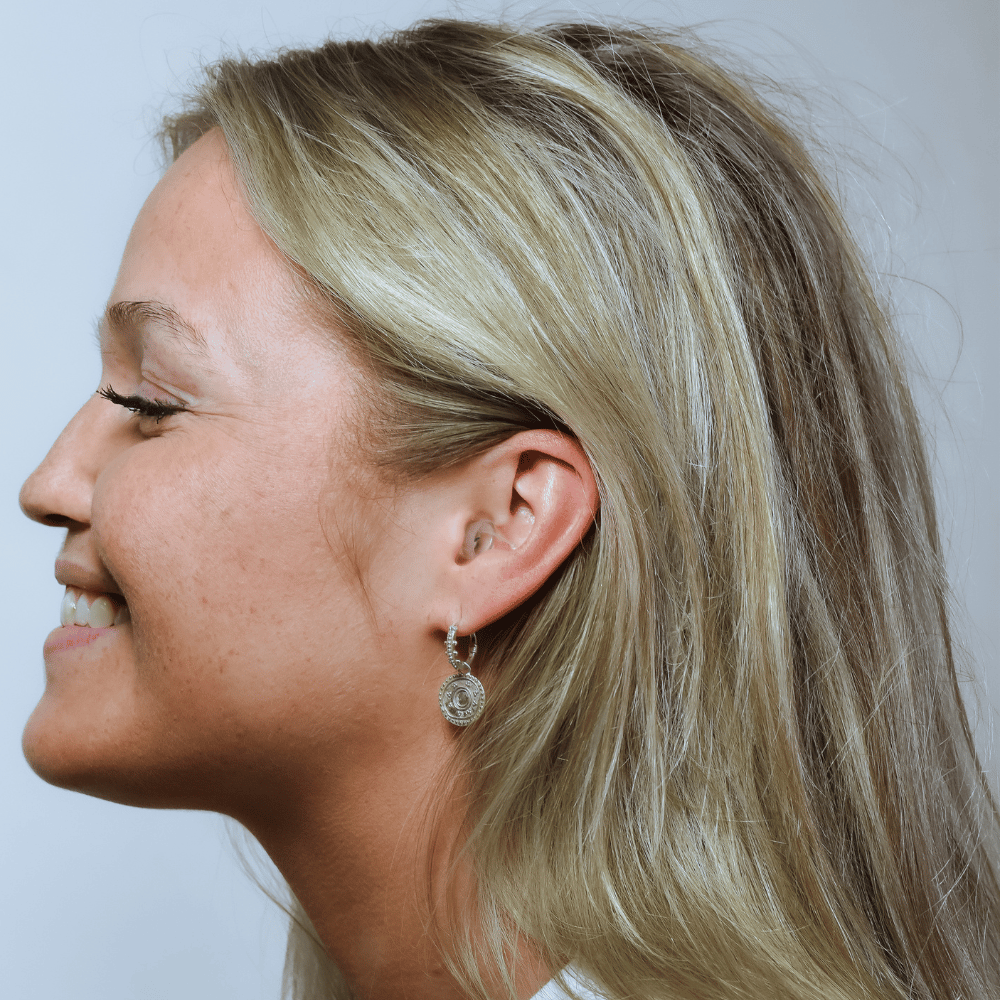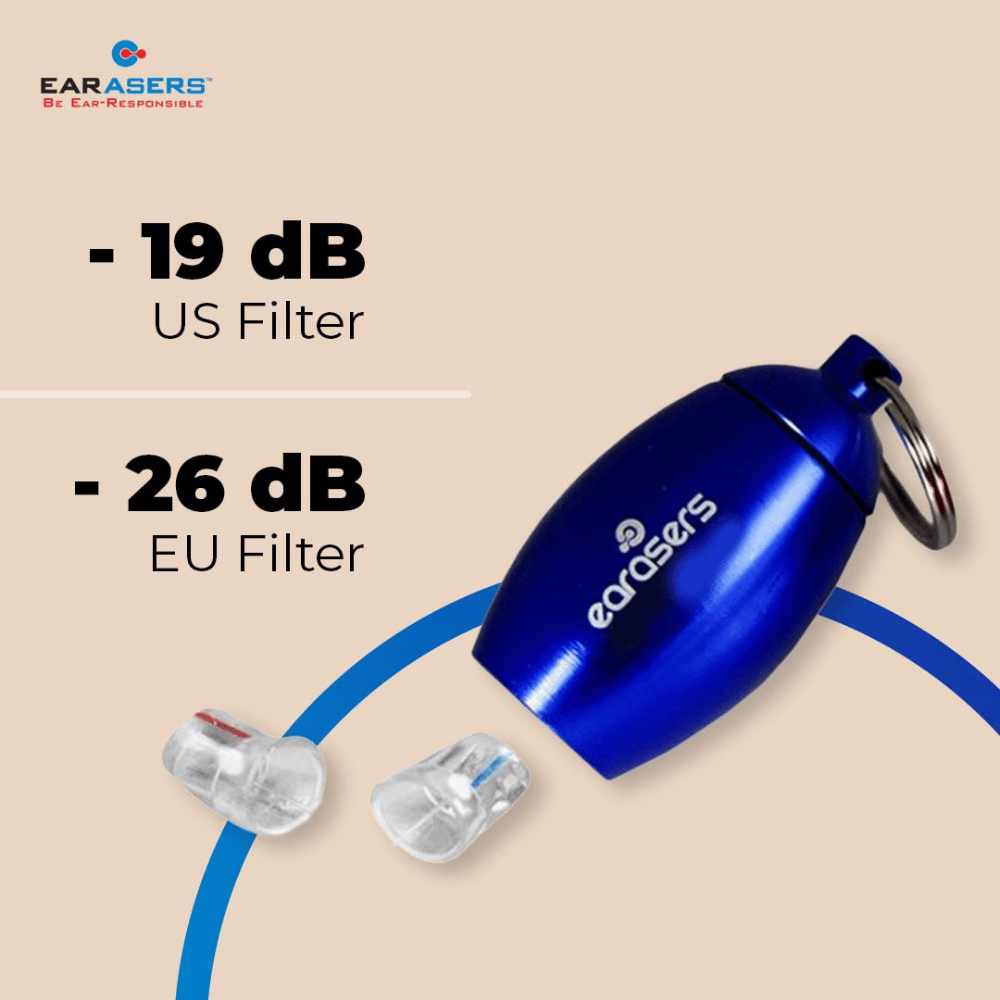 100-Day Hassle-Free Returns

Return within 100 days, no questions asked

2-Year Warranty

On all our EarAsers products
EARASERS EARPLUGS SIZE CHART
Earasers earplugs are a popular choice for musicians, concert-goers, and anyone looking to protect their hearing while enjoying loud music or noisy environments. To ensure the best fit and maximum protection, Earasers offers a range of sizes for their earplugs. It's important to note that everyone's ears are different, so best fit for your ears.
SIZE 'XS'

SIZE 'S'

SIZE 'M'
Frequently Asked Questions
How do I insert my Earasers Earplugs?

Take the string between your thumb and index finger, put it in your ear. Once sealed in the ear canal, turn and adjust so your Earasers earplug aren't visible from the front.
Will they fit?

Yep, our earplugs are fit for all, because they come with removable silicone ear tips in 4 different sizes.

So, whether you've got tiny ears or need something slightly larger, you can adjust your ear tips to fit you perfectly. Additionally, you can get foam ear tips in 3 sizes
Average earplugs at above average price
I use them for drumming. When I move my head, noise comes in temporarily through the side. Better than foam but far away from custom made earbuds. This refers to sound and comfort. I wonder how long the little antenna for inserting the buds will last. They are so tiny and it'll be interesting to see their durability. ALL IN ALL, not too bad as far as noise reduction is concerned but I would have expected a greater experience based on the advertising and what is promised by the information provided by the manufacturer.
TOTAL GAME CHANGER
Had customs for so mamy years until I lost a pair worth over 1k. Since then I've had Earasers and they changed my life. As an event producer I'm always exposed to high sound pressure levels so I carry them everywhere in my keychain. PRO kit woth Standard and Eurp filter is perfect and cover basically all events from small hall to big club to music festival. You'll be perfectly covered by earasers.
Awesome hearing protection
Very comfortable with outstanding good filters.
They got here and they kick a$$
I didn't realize my last review would actually show up on their website, It was unfair because I was upset at DHL, not Earasers. Please disregard. Anyway, these things are really everything they say. Comfortable, nearly invisible and the -19's are perfect for my rehearsals with my organ trio (drummer has a pretty heavy hand and the rehearsal space is pretty small). It takes off just enough of the snare and crash cymbals as well as the piercing frequencies from the guitar player that I hear everything perfectly but don't wince every time the crash is hit. I also got the -26's with the pro kit. Wasn't sure where I'd use them, but we fly a lot and I recently used them on a flight to Berlin. I'm never flying without them again. I could converse with my wife without yelling and the engine noise was greatly reduced. Going to a rock concert soon with my daughter and looking forward to using them there as well. The customer service dept stayed on point the whole time by arguing with DHL on my behalf and I really appreciate it. Great product, great company.