Regular price
€58,00 EUR
Sale price
€49,95 EUR
Unit price
per
Sale
Sold out
Earasers Peace & Quiet Earplugs
You got to get some sleep! Or maybe, it's that commute through downtown sub-way station or a long plane ride and you just want to reduce the jet lag. These Peace & Quiet Earplugs might not block 100%, as no earplug can claim that… but they really do knock off the edge.  While the Musician's earplugs are better at understanding speech in the presence of noise, Earasers Peace & Quiet Earplugs will help you "get away" from the bedlam and commotion. 
If you live with a snorer and would like a bit more 'Peace and Quiet' definitely try these.  Great for isolating yourself, without missing the alarm clock.  More comfortable because of their economical shape, and no continued pressure or expanding process throughout sleep.  Earasers can be worn throughout the night or on long trips, with great comfort. 
First Time Users - it may be very worth your while to get a STARTER KIT.  This will allow you the unique opportunity to try two different sized tips side by side and place your one set of filters in the tips that create the best seal for you.  It's only a few buck more, but the convenience of trying them side by side is priceless.  Then moving forward you will know what works best for you. You'll want this information when it's time to get your ReNewal Kit and refresh just your outer tips.  
Size +
Tip on sizes:
75% of men use Medium
75% of women use Small
75% of young adults use Small
Most people already know if they have small ears due to their experience with other earbuds. Don't worry, there is some definite overlap in the sizes. If you guess wrong, you can always exchange them within 30 days. If you want to be absolutely sure about the right size without shipping back and forward, click here!
Description +
The Earasers soft silicone design is based on one of the most widely used hearing aid tips in the market. There is no need for expensive trips to a specialist to get custom ear molds. The Smart Seal technology conforms to the shape of your ear canal for a more comfortable fit that you can wear all day. Earasers can be cleaned and reused, and when the silicone tip starts to get old, they can be "Renewed" with new silicone sleeves.
Product information +
Visit the info section on our website to find FAQ, warranties, specifications or instruction videos. For any other questions hit the question section or send us an Email.
Filter reduction level +
For someone who is working from home, or simply reading a book, but with a lot of noises around, we advise to use -13 dB average, 19 dB peak filters.
For someone who attends music festivals or loud concerts we have a different type of earplug. Choose for more reduction, for instance - 26dB -31Db. Now you make sure your ears won't hurt when the noise is going extra loud. No beep when coming home.
A dentist does not hear really loud noise coming out of machines but has to hear them all day long. Which is not healthy for the brains to process. For these types of situations, we have the -19 Db filter. This one makes sure you kill the noise but hear the voice.
If you have any questions regarding the filter you want to use, please contact us or check out our social media pages where we give more information.
View full details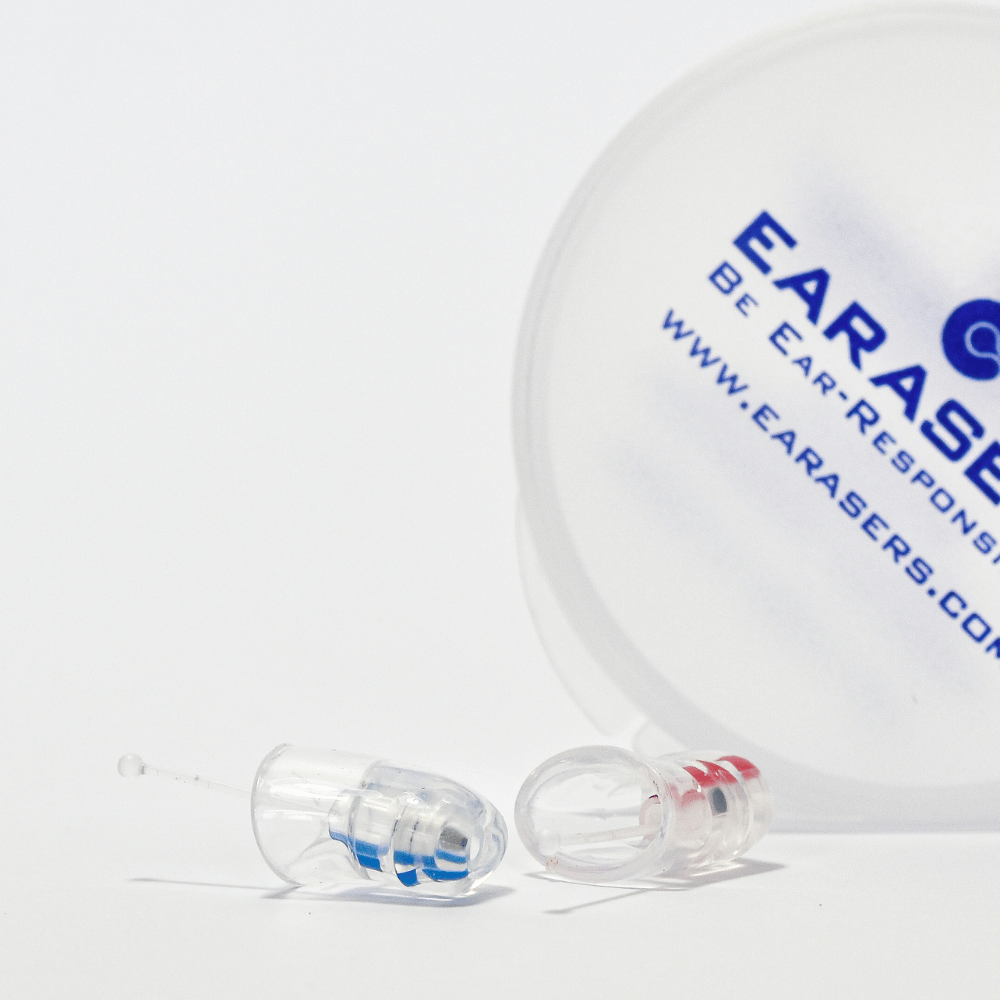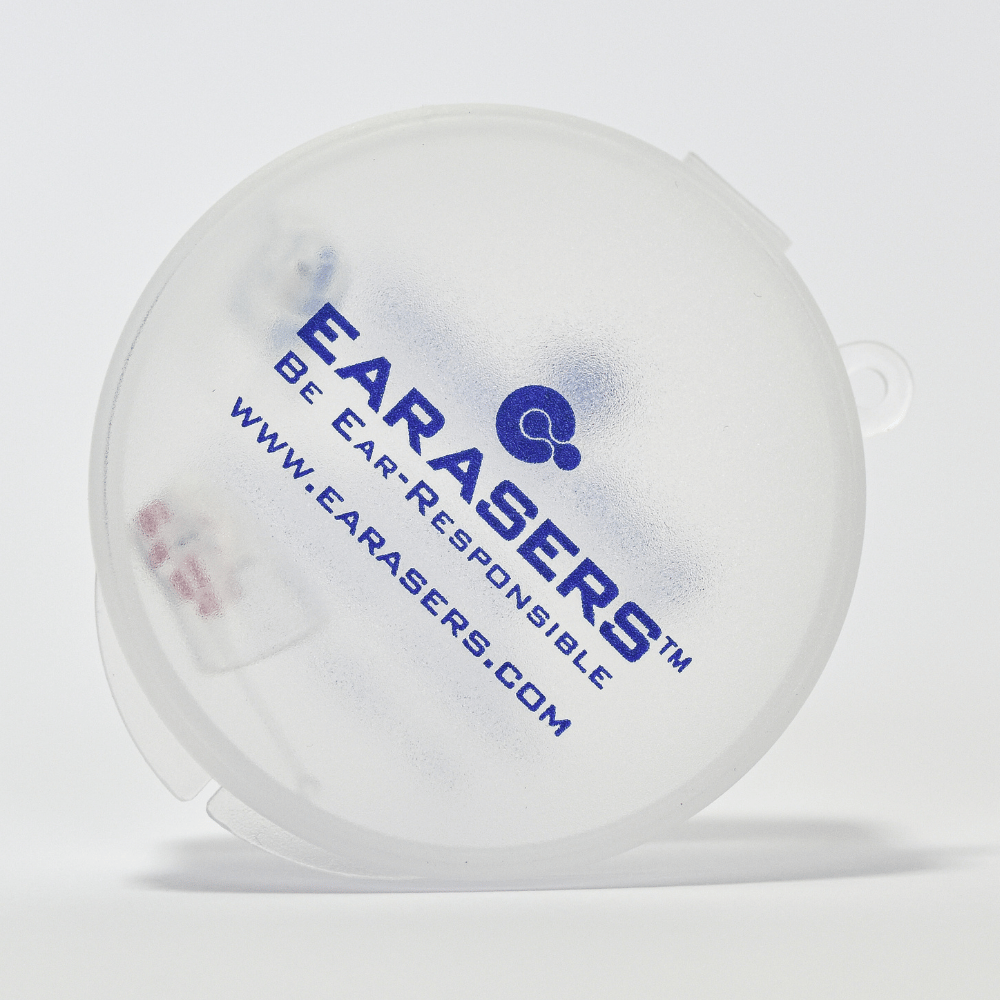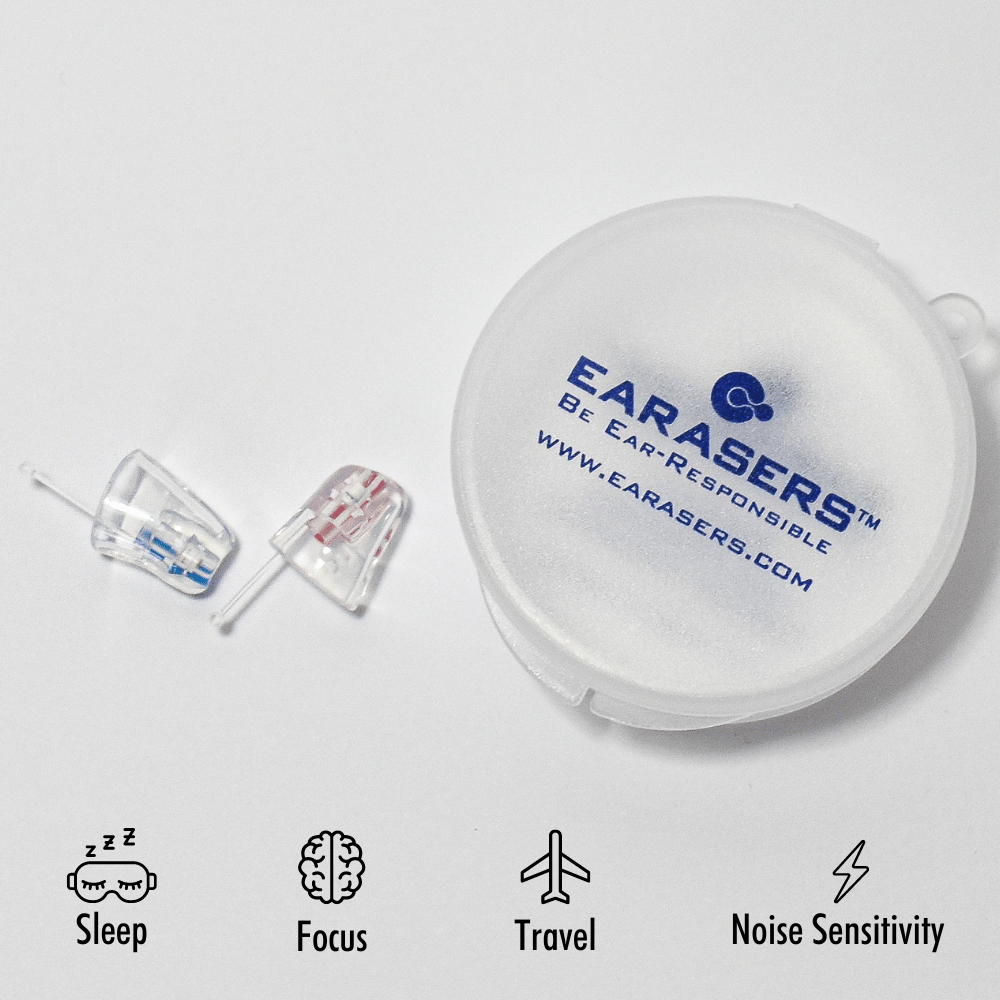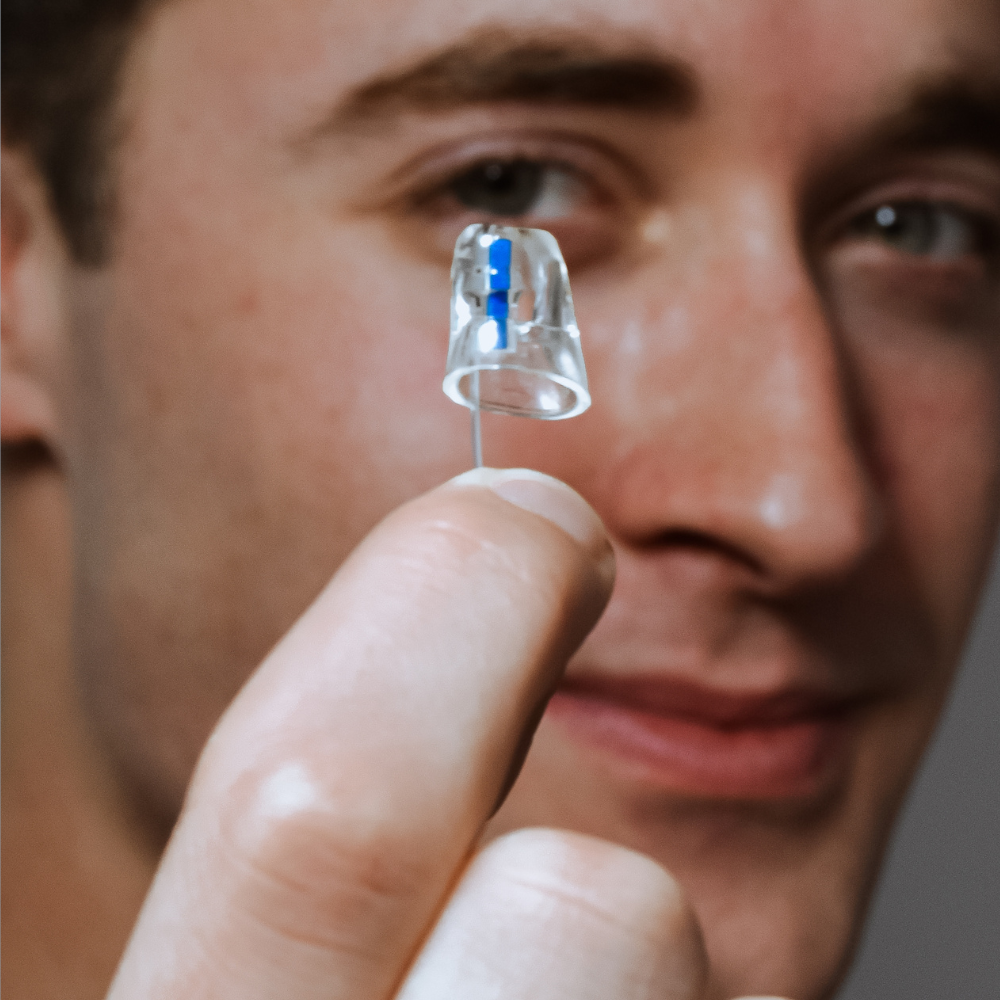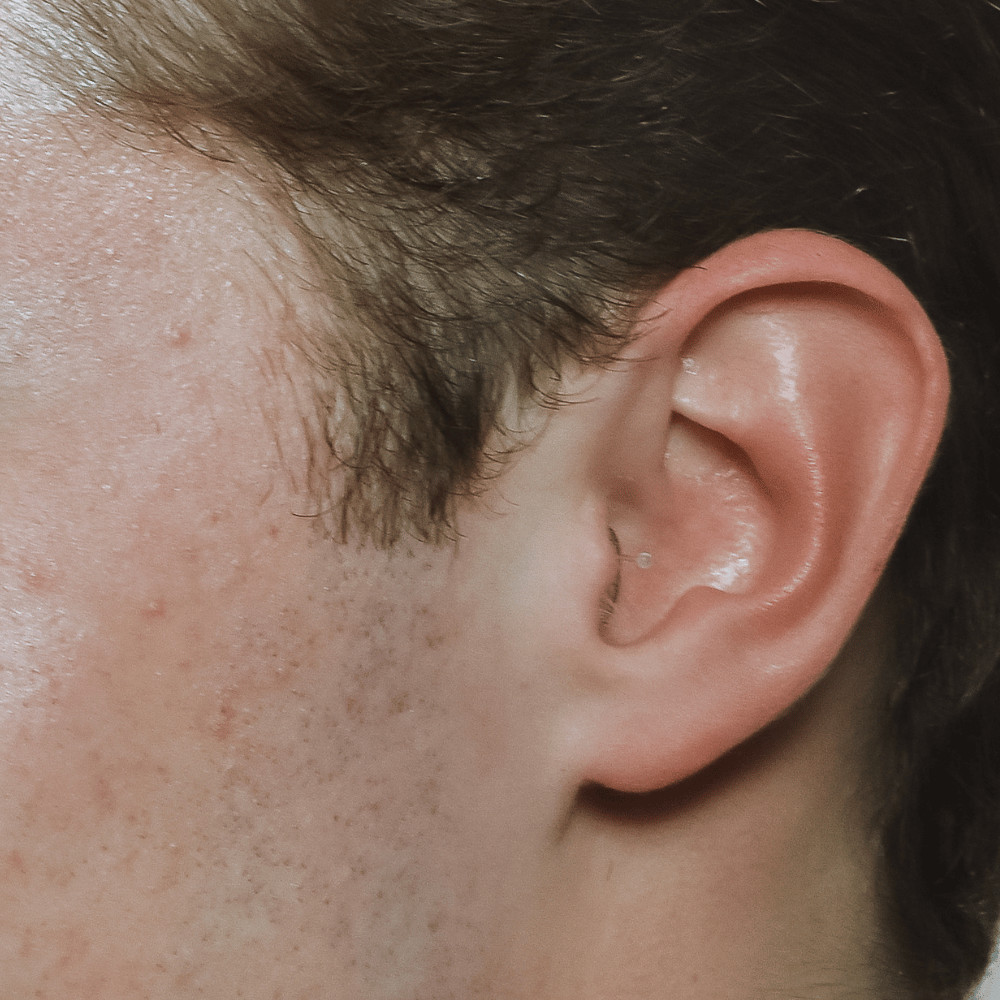 100-Day Hassle-Free Returns

Return within 100 days, no questions asked

2-Year Warranty

On all our EarAsers products
EARASERS EARPLUGS SIZE CHART
Earasers earplugs are a popular choice for musicians, concert-goers, and anyone looking to protect their hearing while enjoying loud music or noisy environments. To ensure the best fit and maximum protection, Earasers offers a range of sizes for their earplugs. It's important to note that everyone's ears are different, so best fit for your ears.
SIZE 'XS'

SIZE 'S'

SIZE 'M'
Frequently Asked Questions
How do I insert my Earasers Earplugs?

Take the string between your thumb and index finger, put it in your ear. Once sealed in the ear canal, turn and adjust so your Earasers earplug aren't visible from the front.
Will they fit?

Yep, our earplugs are fit for all, because they come with removable silicone ear tips in 4 different sizes.

So, whether you've got tiny ears or need something slightly larger, you can adjust your ear tips to fit you perfectly. Additionally, you can get foam ear tips in 3 sizes
Didn't received the replacement
It didn't fit, too small. So I email to exchange, no answer. So I called and someone very nice answered and told me they will send me a bigger size for free. I didn't get it yet. I emailed and no news… It's been almost a month since I first order…
Exceptional in every regard
These earplugs are absolutely amazing: comfortable, almost invisible when worn, and capable of blocking most noise, while preserving the frequency-profile of the sounds.
Beyond the high quality of the product itself, I would be amiss not to mention the superb customer service; I had some initial issues regarding the size of (one of) the sleves. Upon learning this, Mark immediately came up with a solution and really went out of his way to make sure that I get the most out of the earplugs.
All in all, I cannot overemphasise the degree to which can recommend these earplugs and company more generally.
Comfortable and affordable
These earplugs are definitely the best consumer level hearing protection item I have bought. They are comfortable to wear, and apply very little pressure on the ear canal. They are also significantly less conspicuous than their cheaper, day-glo counterparts.
I felt that although overall that some clarity was lost, the protection they provided was worth the sacrifice. They also afford a much greater sonic experience than other similarly priced consumer level hearing protection.
Whilst they can not compare to custom moulded ear plugs, they perform their duties very well.
Fantastic service
Fantastic service and product. We have colourful metal cases that have been engraved with our daughters name which makes them even more special. Our daughter has Aspbergers Syndrome & SPD. These were bought in hope of helping her cut out the distracting noises in the classroom. They do a great job. She can hear her teachers perfectly, and is no longer distracted by keyboard tapping, footsteps, road noise, doors closing, lights buzzing just to name a few. Amazingly, she has had to previously leave the building for fire alarm testing. She did not get enough warning to vacate the building and was inside when the alarm sounded. She could hear it but it didn't physically hurt her. She is usually in pain for 2-3 days but she was fine with the Earasers. We are delighted, our daughter is exceptionally happy. These work, they are discrete and comfortable. Thank you Mark & Earasers ❤️